About the Webinar
The Additive Manufacturing and Powder Metallurgy (AMPM) Proficiency Testing Program (PTP) participation offers organizations to demonstrate their lab's testing capabilities for metal powder and in turn satisfy accreditation requirements. Participation at the AMPM PTP helps organizations improve and maintain high level of performance in the use of ASTM methods and compare with other labs worldwide. It is also seen as a QA tool to monitor lab's strengths and weaknesses. Participants receive a comprehensive benchmark report on the statistics of test results and understand characteristics of powders (such as apparent density, flow rate and particle size). Participants can use test results as a benchmark for creating acceptance criteria.
This webinar is intended to provided a detailed understanding about the ASTM International's proficiency testing program for metal powder used in additive manufacturing. The webinar covers topics such as importance of powder quality in AM, the methodology in performing PTP program, the benefits in becoming a part of this program, different ASTM and ISO standards used in characterization of metal powders, how to participate in this program and the value obtained for the program participants. This webinar is offered free of charge.
This webinar was held on Wednesday, August 5, 2020 at 9:00am EDT and is now available for on-demand viewing.
Click here to register for the AM Powder Metallurgy Proficiency Testing Program (PTP).
Learning Outcomes
Learn the 20 different test methods used in powder characterization for powder qualification in this program.
Learn how statistical analysis is used in PTP program to create a benchmark report that can be used for creating acceptance criteria.
Learn other methods such as ASTM D795-14 used for identifying outliers in statistical analysis.
Learn how AMPM PTP's participation can help demonstrate lab's testing capabilities and satisfy accreditation requirements.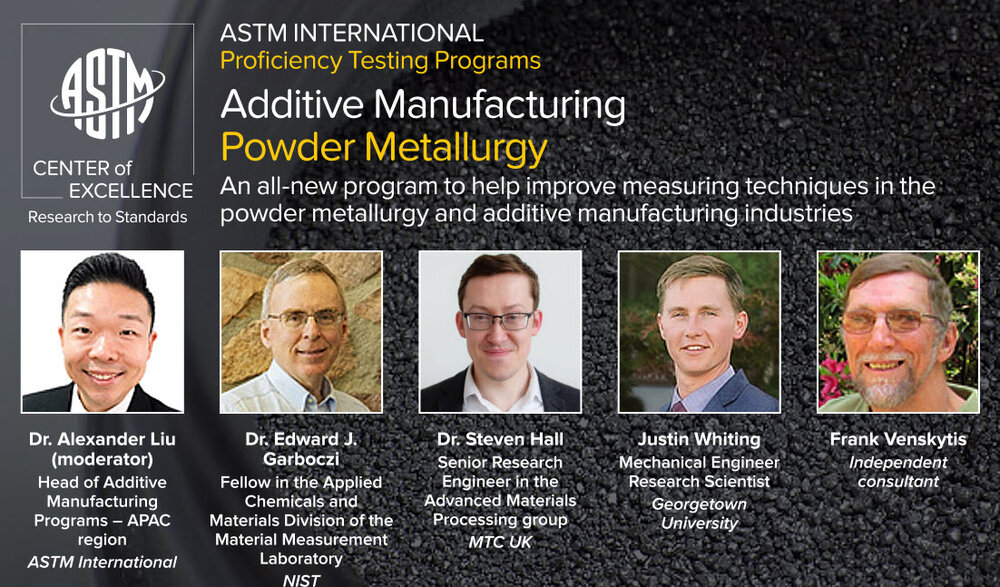 Moderator
Moderator

Dr. Alexander Liu

Dr. Alexander Liu is Head of Additive Manufacturing Programs – APAC region at ASTM International responsible for ASTM AM center of excellence (CoE) and various AM programs in APAC region. He has a B.Eng in Mechatronics and Robotics Automation and a PhD in Mechanical Engineering, focusing on process and materials characterization for metal additive manufacturing. One of his roles at ASTM International is involved in the Additive Manufacturing (AM) and Powder Metallurgy (PM) Proficiency Testing Program (PTP) to help organizations improve measuring techniques in the PM and AM industries.

Show More