About the Course
The AM General Personnel Certificate Course is comprised of 8 modules that cover all the general concepts of the AM process chain. To give flexibility to the attendees, the course is scheduled such that two modules will be covered every week to complete the entire course in one month
This course will equip attendees with core technical knowledge related to common AM practices and will allow them to earn a General AM Certificate that will serve as the foundation and pre-requisite for earning future specialized role-based AM certificates through the ASTM AM CoE. Attendees will complete a multiple-choice exam upon course completion.
Who Should Attend?
Whether you are just stepping into AM or if you have experience and are looking to advance your knowledge and stay relevant, the General Personnel Certificate Course is for you. The course is recommended for technicians, managers, engineers, and other individuals from government agencies, industry, and academia with any level of AM experience.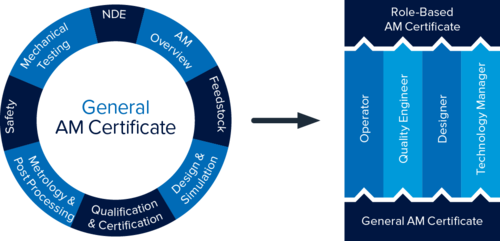 Why Sign Up for This Course?
Gain core foundational technical knowledge covering the entire AM process chain
Stand out in the industry with ASTM E2659-18-compliant certificate from the globally recognized ASTM AM CoE
Chart your own path: This course is the first step toward multiple AM CoE role-based certificates
Each module taught by experts from academia, industry, national labs, and regulatory bodies
EARN A DIGITAL BADGE after successful completion of this course. These badges are an innovative way to showcase career knowledge, skills, and abilities obtained through professional development. Add the badges to your digital portfolios or share them on social and professional networks.
Course attendees interested in receiving 3.2 Continuing Education Units (CEUs) should complete a CEU application form. A certificate will be sent electronically to the attendee approximately 1-2 weeks following successful completion of the exam.
Course Schedule
This course will feature 18 experts across the field of additive manufacturing to provide a comprehensive course covering all of the general concepts of the AM process chain to its attendees. Attendees will be given virtual access to two modules per week for self learning and then a live Q&A session with course instructors will be held the following week to review content.
Week 1 - Begins August 2

Francisco Medina, Univ of Texas at El Paso
David Bourell, Univ of Texas at Austin
Provides an overview of AM with descriptions of different AM process categories, process steps, materials, applications and associated terminologies

Eujin Pei, Brunel University
David W. Rosen, Georgia Tech
Outlines key considerations
for AM design, including creating and working with design files, defining requirements, criticality, and material suitability, and conducting analysis and simulation
Week 1 – Live Q&A Session with Instructors: 9:00 – 11:00 am EDT on August 9
Week 2 - Begins August 8

Tony Thornton, Micromeritics
Louis-Philippe Lefebvre, NRC Canada
Covers feedstock behavior and its effects on part performance, powder characterization techniques, powder handling and storage, and powder re-use strategies

Richard Leach, Univ of Nottingham
Olaf Diegel, Wohlers Associates/Univ of Auckland
Provides a fundamental understanding of various post-processing methods, procedures, thermal processes, and surface finishing operations, as applicable to different material systems.
Week 2 – Live Q&A Session with Instructors: 9:00 am EDT – Feedstock, 1:00 pm EDT – Metrology and Post-Processing on August 16
Week 3 - Begins August 15

Francois Richard, P&W Canada
Provides an outline of safety considerations, including insights on risk assessment strategies such as identifying hazards, mitigation measures, facility design considerations, engineering and administrative considerations, and regulatory codes applicable to AM.

Don Roth, Roth Technical Consulting
Details non-destructive testing and inspection methods that can be applied to AM. Specific techniques are explained along with their benefits, limitations, and other requirements to perform the inspection.
Week 3 – Live Q&A Session with Instructors: 9:00 – 11:00 am EDT on August 23
Week 4- Begins August 22

Nima Shamsaei, Auburn University
Rachael Andrulonis/Royal Lovingfoss, WSU-NIAR
Focuses on fatigue testing and characterization and addresses testing requirements applicable to AM parts. Static and dynamic test methods, testing considerations, and interpretation of the results are the key focus areas.

Part 1: Matthew Di Prima, David Hwang, Phillip Pontikos, Daniel Porter, Anne Talley, FDA
Part 2: Douglas Wells, NASA and Michael Gorelik, FAA
Provides a general understanding on the activities necessary to qualify a process and certify a part against a set of application-based regulations.
Provides a general understanding on the activities necessary to qualify a process and certify a part against a set of application-based regulations.
Week 4 – Live Q&A Session with Instructors: 9:00 – 11:00 am EDT on August 30
Instructors
Rachael Andrulonis

David L. Bourell

Olaf Diegel

Matthew Di Prima

Michael Gorelik

Richard Leach

Louis-Philippe Lefebvre

Royal Lovingfoss

Frank Medina

Francois Richard

David W. Rosen

Don Roth

Nima Shamsaei

Tony Thornton
Online Learning
Attendees will be provided access to ASTM International's Learning Center to complete this training. This access will include training videos and course work for each module of this Certificate Course.