About the Webinar:
Additive manufacturing (AM) is a rapidly growing technology receiving global attention from several industrial sectors. The near net shape process has evolved significantly over recent years and is capable of fabricating fully dense structural parts with high potential for geometrical optimization that would not be possible with more traditional methods. However, understanding and characterizing the significant variance in the mechanical properties across the component due to the underlying transient microstructure is a fundamental research requirement. As such, traditional test approaches can be deemed unsuitable as it is difficult to extract representative test specimens which comply to relevant standards. Therefore, a suite of alternative experimental approaches capable of establishing the properties of geometrically representative microstructures and cross sections needs to be considered. Miniaturised mechanical test approaches are now widely exploited as an established means of obtaining useful mechanical property information from restricted material quantities and for components of limited dimension, providing a greater relationship to actual components than standard test techniques.
This webinar will highlight some of the recent research at Swansea University in realizing the benefits of several alternative experimental test methodologies in characterizing a variety of mechanical behaviours of different AM alloy systems. This includes small punch testing, which can be adopted to understand creep, tensile and fatigue type properties; shear punch tensile testing, which can be used to establish monotonic behaviour and miniaturized tensile testing within a Scanning Electron Microscope (SEM) which can reveal localized damage under loading. Such methods can be used to understand the mechanical properties of highly localised regions, for remnant life assessment purposes, for quality control, ranking the performance of novel materials and where low volumes of stock material are available. Furthermore, the webinar will also discuss understanding scale effects of using test piece geometries of different dimensions.
Learning Outcomes:
After completing this webinar the attendees will have developed an understanding of:
The benefits of alternative mechanical test methodologies suitable for additive manufactured materials and components and the limitations of more traditional approaches.
The limitations of novel test techniques, but how they can form a complimentary testing suite to traditional approaches.
How alternative mechanical test methodologies may be applied.
How mechanical data generated through such methods can be correlated to established material properties.
Who Should Attend:
Manufacturing Engineers, Research Engineers, AM Process Engineers
Instructor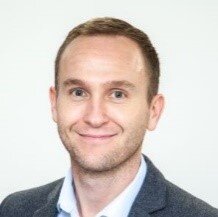 Professor Robert Lancaster is a Chair in Materials Science & Engineering within the Institute of Structural Materials (ISM) at Swansea University (SU), currently leading a 10-member strong team of researchers focussing on thermo-mechanical fatigue (TMF), additive technologies and small punch testing (SPT). His current grant portfolio has a total value of over £2.25M on projects funded by EPSRC, Horizon 2020, Clean Skies 2, Innovate UK, ATI, NRN and M2A, in collaboration with a number of leading research institutions and companies including Rolls-Royce plc., Rolls-Royce Nuclear Submarines, GKN Aerospace/Additive, TWI NDT Validation Centre, Cummins Turbo Technologies and the Universities of Sheffield, Nottingham and Birmingham. These collaborations have primarily concentrated on the mechanical performance and structural integrity of additive manufactured (AM) materials, and implementing the relevant methodologies capable of replicating true in-service conditions.
Professor Lancaster is a pioneer in the use of SPT methodologies and their application to additive structures and has developed a unique SP fatigue testing capability unrivalled across the world. He has been officially recognised as the UK national expert for SPT, is a board member of the BSi ISE 101/01 Uniaxial Testing Committee, Secretary of the IOM3 Structure & Properties of Materials Committee and IOM3 Particulate Engineering Committee. He has published over 60 journal and conference articles, edited 2 books and guest edited four special editions of reputable international journals, focussed on SPT and the mechanical properties of additive structures. Professor Lancaster previously chaired the 5th International Small Sample Test Techniques conference (SSTT2018) convened in Swansea, Wales in July 2018. This biennial series of conferences provides the dominant platform for disseminating research on small scale testing technologies with SSTT2018 attracting over 80 delegates from 15 countries with over 50 papers published in the conference proceedings, for which Professor Lancaster acted as the Principal Editor. Furthermore, he guest edited a special issue of the journal Theoretical & Applied Fracture Mechanics that captured some of the recent breakthroughs that were presented at the conference. Such activities have also led to Professor Lancaster's involvement in the forthcoming 15th International Conference on Fracture, ICAM 2021 and TMS 2022, where in each event he will be a co-organizer on dedicated symposia on AM and small scale test methodologies. He has also acted as a contributing partner to the European Standard EN 10371 'Metallic materials, Small punch test method', the ASTM Standard E3205-2020 'Standard Test Method for Small Punch Testing of Metallic Materials' and has recently joined the editorial board of the ASTM journal 'Materials Performance and Characterization'.