2020 was a year of new challenges and unexpected obstacles. The ASTM International Additive Manufacturing Center of Excellence would like to take a moment and thank those who have supported us through this period and made our continued progress possible, especially during these uncertain times. Despite the crisis, we continued to make significant progress and that only could happen with the contributions and dedication of our partners, members and stakeholders.
The mission of the AM CoE is to bridge standards development with R&D to better enable the efficient development of standards, education and training, certification and proficiency testing programs.
We are proud of our achievements that we made, and we would like to take a moment to look back at 2020: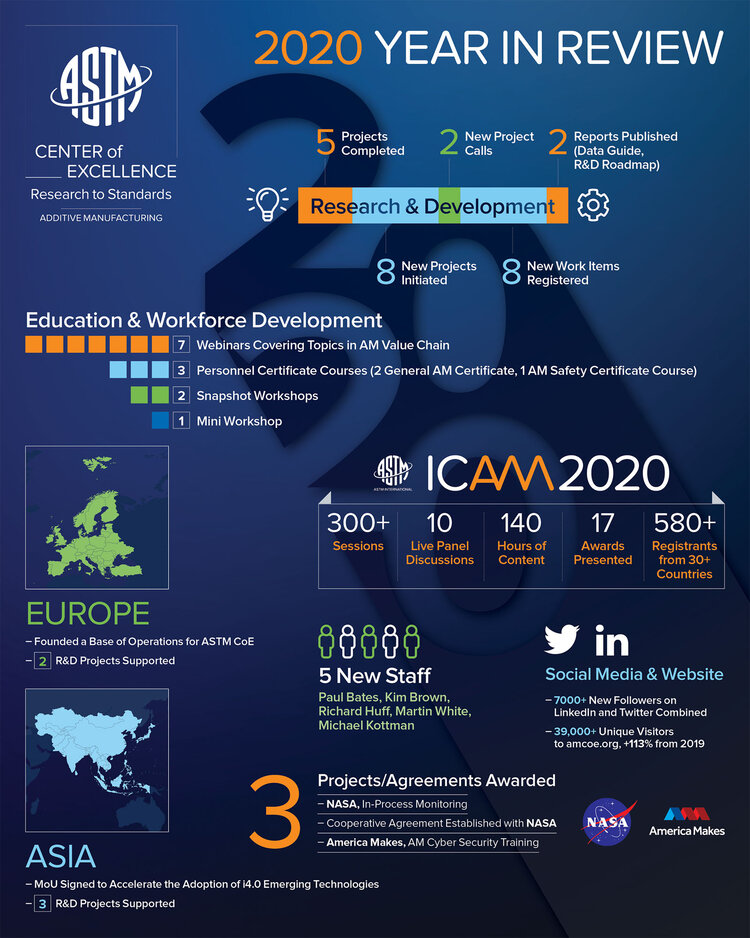 Education & Workforce Development
Several in-person events were hosted prior to the pandemic including the 3rd Snapshot Workshop held at UTEP in El Paso, TX with support of America Makes and NIST in February and the Additive Manufacturing General Certificate Program at Auburn University, AL in March. We pivoted to virtual events and were able to host a series of webinars, workshops, and certificate courses to engage and educate the AM community.
Research & Development
The AM CoE began eight new R&D projects in 2020 (following 14 previously initiated projects), addressing several standards gaps in additive manufacturing such as data, metal and polymer feedstock, testing, inspection, and materials. A new project call was launched that expanded ASTM's support for research-to-standards to non-CoE partners. In addition to sharing the current progress and goals of the AM CoE R&D program in the Strategic Roadmap for R&D, the AM CoE, in collaboration with America Makes, published a Strategic Guide for AM Data Management and Schema that outlines gaps, solutions, and detailed action plans for advancing data management in AM. In response to the COVID-19 emergency, the AM CoE with inputs from ASTM Committee F42 members, published a standards-based design guide for AM to support designers who were responding to the needs of healthcare workers and patients.
International Footprint
ASTM AM CoE founded a base of operations in Europe this year and were able to quickly engage in local projects and programs. Meanwhile, in the Asian region, ASTM International was able to expand its programs by partnering and collaborating with multiple organizations.

Standards Published
Standardization also continued with full steam. Multiple standards published under committee F42 and as ISO TC 261. Some of the notable ones are listed here:
As of December 2020, there are 75 work items and draft standards under development.
The AM CoE extended its reach in many facets; including doubling the size of our internal team, growing our audience digitally, and increasing partnerships and collaborations with organizations in the industry, government, and academia. ICAM 2020, our 5th annual flagship event, was the largest virtual scientific gathering at ASTM International to date, shedding light on the latest developments in the AM field, specifically the transition from research to application and standardization needs.
We'd like to thank our partners, members, supporting organizations, and key stakeholders for helping us achieve tremendous results in a tumultuous year. We look forward to a prosperous 2021 with you and even bigger impact on the additive manufacturing industry and beyond.