The ASTM International Additive Manufacturing Center of Excellence would like to take a moment and thank those who have supported us through this period and made our continued progress possible, especially during these uncertain times. Despite the ongoing crisis, we continued to make significant progress and that only could happen with the contributions and dedication of our partners, members, and stakeholders.
The mission of the AM CoE is to bridge standards development with R&D to better enable the efficient development of standards, education and training, certification, and proficiency testing programs.
We are proud of our achievements that we made, and we would like to take a moment to look back at 2021.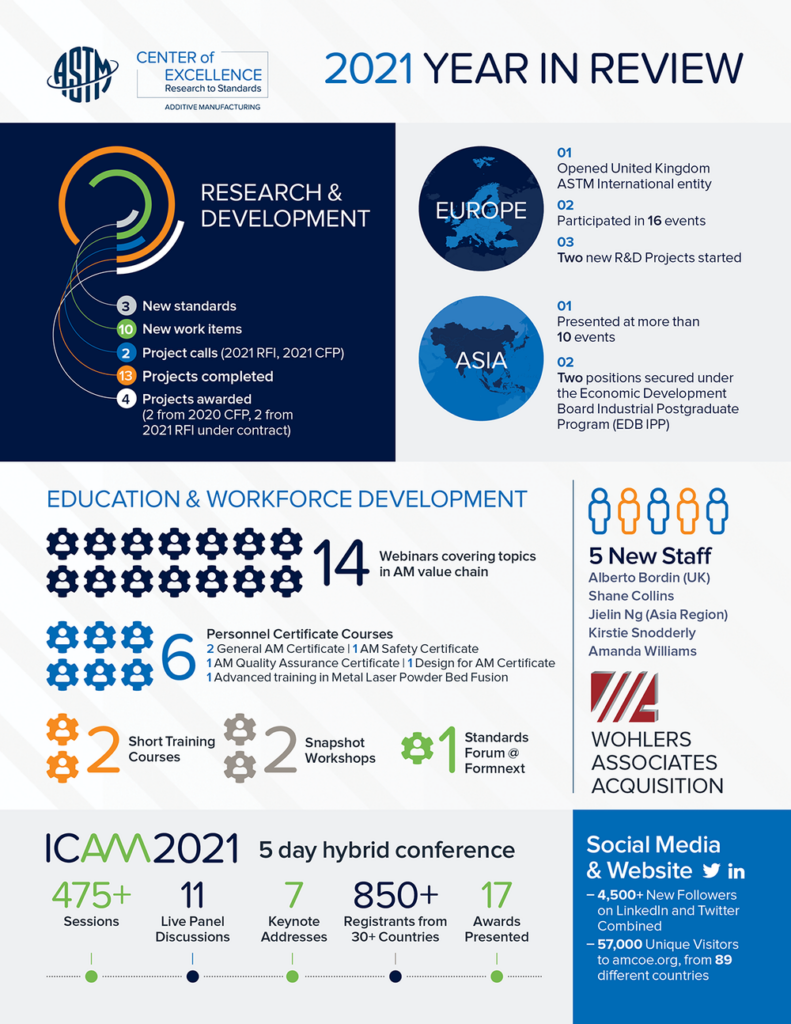 Education & Workforce Development
Despite the ongoing pandemic, the AM CoE was able to host several new, in-person events including the AM Quality Assurance Certificate Course at AMUG, two short certificate courses in Anaheim CA at ICAM, Advanced Training in Metal Laser Powder Bed Fusion, and the Standards Forum at Formnext in Frankfurt, Germany. New virtual events including Design for AM certificate course were held to engage and educate the AM community and also a series of webinars, Snapshot Workshops, and other certificate courses.
Research & Development
The AM CoE began 7 new R&D projects in 2021 (following 8 previously initiated projects), addressing several standards gaps in additive manufacturing such as metal and polymer feedstock, processes, testing, inspection, and qualification. Two new projects were awarded to the first non-partner organizations, Fraunhofer Institute for Laster Technology (ILT) and National Research Council Canada (NRC). The AM CoE is also supporting three new projects awarded by America Makes to address critical aspects of the additive manufacturing industry, including training, inspection, qualification approaches, and in-process monitoring. In collaboration with NASA, AM CoE is currently working on three projects covering topics such as process qualification, defect detection, and in-situ monitoring.
International Footprint
The United Kingdom ASTM International entity was opened and doubled the size of the team. Funding has also been secured for a UK based PhD in partnership with Swansea University. Meanwhile, in the Asian region, two positions were secured under the Economic Development Board Industrial Postgraduate Program (EDB IPP).
Standards Published
Standardization also continued with full steam. Multiple standards published under committee F42 and as ISO TC 261. Some of the notable ones are listed here:
o ISO/ASTM 52930-21 Additive manufacturing – Qualification principles – Installation, operation and performance (IQ/OQ/PQ) of PBF-LB equipment
o ISO/ASTM 52950-21 Additive manufacturing – General principles – Overview of data processing
o ASTM F3529-21 Guide for Additive Manufacturing – General Principles – Guide for Design for Material Extrusion Processes
As of December 2021, there are 70+ work items and draft standards under development for Committee F42 on Additive Manufacturing Technologies.
The AM CoE extended its reach in many facets, including adding 5 members to our quickly growing team, and the acquisition of Wohlers Associates. ICAM 2021, our 6th annual flagship event, was the largest virtual scientific gathering at ASTM International to date, shedding light on the latest developments in the AM field, specifically the transition from research to application and standardization needs.
We'd like to thank our partners, members, supporting organizations, and key stakeholders for helping us achieve tremendous results in a tumultuous year. We look forward to a prosperous 2022 with you and even bigger impact on the additive manufacturing industry and beyond.