About
The ASTM International Conference on Additive Manufacturing (ASTM ICAM 2022), sponsored by the ASTM International Additive Manufactured Center of Excellence (AM CoE), will be held October 31 – November 4, 2022 in Orlando, FL at the JW Marriott Orlando Bonnet Creek Resort and Spa.
This is ASTM International's seventh annual flagship event related to standardization, qualification, and certification with an emphasis on industry specific requirements addressing the entire AM process chain. This will be an event involving many ASTM committees and external stakeholders, setting the stage to bring experts from all around the world to exchange the latest advancement in the field of additive manufacturing with emphasis on transition of research to application through standardization.
The implementation of additive manufacturing training and recruitment programs such as the Student Presentation Competition and Young Professional in AM awards, will also be offered. Additionally, the recipients of the three prestigious 2022 ASTM International Additive Manufacturing Awards of Excellence in Education, Research, and Standardization will be announced during this event.
Why you Should Participate
As AM technologies are adopted by various industries, establishing feedstock-process-structure-property-performance relationships becomes essential for qualification and certification of parts in safety critical applications. This conference addresses application specific requirements of various industry sectors in addition to covering the fundamentals of AM process chain. Industry, academia, and government agency professionals in the AM community are invited to address the current and future state of:
Industry standards
Design principles
Qualification and certification
Innovations in the industry
Materials and processes
Data management, sharing, analysis and beyond
Materials of interest include metals, polymers, composites, electronics, ceramics, and other related feedstocks.
Download ICAM 2022 Flyer
About ICAM 2021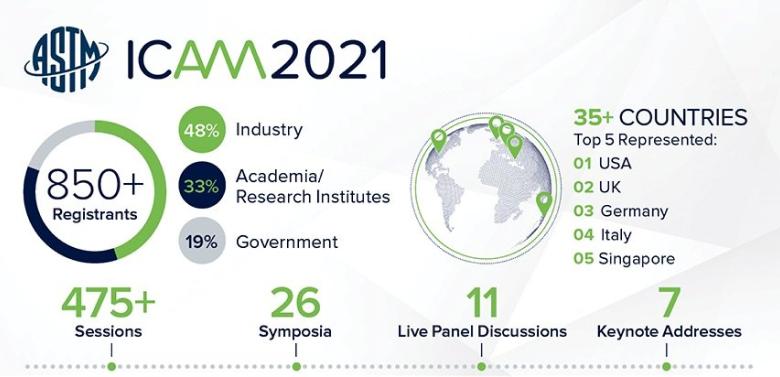 Organizers
Auburn University

Nima Shamsaei

Director – National Center for Additive Manufacturing Excellence (NCAME)

334.844.4839

Show More

ASTM International

Mohsen Seifi

Director, Global Additive Manufacturing Programs

202.904.2834

Show More
A Message from Our Co-Chairs
Before additively manufactured parts can be used in safety-critical applications, a clear understanding of the entire process chain and feedstock-process-structure-property-performance relationships must be established. ICAM 2022 will be the largest ASTM International scientific conference and intended to provide a forum for the exchange of ideas and to transition the research to applications, focusing on the need for industry-specific standards and design principles as well as challenges with qualification and certification.
The first event, a May 2016 workshop, was sponsored by the committee on fatigue and fracture (E08) in San Antonio, Texas. The second event, a November 2017 symposium, was sponsored by E08 committee and the committee on additive manufacturing technologies (F42) in Atlanta, Georgia. The third event in November 2018, sponsored by the F42, E08, and E07 (nondestructive testing) committees, was held in the Washington, D.C. After the creation of ASTM International Additive Manufacturing Center of Excellence (AM CoE) in 2018 and the growth of the additive manufacturing industry, the 4th event, held in Washington, D.C. area in 2019, was led by the AM CoE and dozens of involved additional technical committees. In 2020, the ASTM AM CoE decided to offer this gathering as a major conference. The ASTM International Conference on Additive Manufacturing (ICAM 2020) included 19 symposia and 10 panels, held over 5 days with 5 parallel sessions. Due to the pandemic, the ICAM 2020 was organized virtually with over 300 presentations and close to 600 participants. ICAM 2021 grew to a hybrid event held in Anaheim, CA and online, in November 2021 with over 850 participants, including 26 symposia, 11 panel discussions, and 7 keynote addresses.
This year's event, the ASTM International Conference on Additive Manufacturing (ASTM ICAM 2022), will have a broader scope related to standardization, qualification, and certification of AM products. This event will involve even more ASTM committees and external stakeholders, setting the stage to bring experts from around the world to exchange the latest developments in the field of additive and advanced manufacturing towards the 4th industrial revolution. We invite the entire community to join us for the exchange of ideas, to learn about the most recent advancements in the field, and to be a part of the journey for transitioning research to application through standardization.
2022 Scientific Organizing Committee
Chris Adkins
Identify 3D, USA
Shweta Agarwala
Aarhus University, Denmark
Kareem Aggour
GE Research, USA
Shawn Allan
Lithoz America, USA
Amber Andreaco
GE Additive, USA
Rachael Andrulonis
WSU – NIAR, USA
Alphons Antonysamy
GKN Aerospace, UK
Cindy Ashforth
FAA, USA
Usama Attia
The MTC, UK
Sara Bagherifard
Politecnico di Milano, Italy
Neil Bailey
Stellantis, USA
LaKami Baker
Auburn University, USA
Darren Beckett
Sigma Labs, USA
Jean-Luc Belon
GKN Aerospace, UK
Mark Benedict
U.S. Air Force, USA
Stefano Beretta
Politecnico di Milano, Italy
Animesh Bose
Desktop Metal, USA
David Brackett
The MTC, UK
Thomas Broderick
AFRL, USA
James Burns
UVA, USA
Brandon Cox
Honeywell, USA
Carl Dekker
Met-L-Flo, USA
Matthew Di Prima
FDA, USA
Olaf Diegel
University of Auckland, New Zealand
Jim Dobbs
Boeing, USA
Anton Du Plessis
Stellenbosch University, South Africa
Object Research Systems, Canada
Ben Dutton
The MTC, UK
Joseph Falco
NIST, USA
Shaw Feng
NIST, USA
Ben Ferrar
Carpenter Additive, USA
Michael Fiske
NASA, USA
Eric Fodran
Northrup Grumman, USA
Philip Freeman
Boeing, USA
Edward Garboczi
NIST, USA
Giada Gasparini
University of Bologna, Italy
Ole Geisen
Siemens Energy, Germany
Joy Gockel
Colorado School of Mines, USA
Jiadong Gong
QuesTek, USA
Michael Gorelik
FAA, USA
Paul Gradl
NASA, USA
Nikhil Gupta
NYU, USA
Steven Hall
The MTC, UK
David Heard
Stryker Joint Replacement, USA
Edward Herderick
Ohio State University, USA
Patrick Howard
GE Aviation, USA
Nik Hrabe
NIST, USA
Matthew Jacobsen
Air Force Research Laboratory, USA
Eric Johnson
Eaton, USA
Jason Jones
MOOG, USA
Branden Kappes
Contextualize, USA
Eddie Kavanaugh
Johnson & Johnson, Ireland
Ali Kazemian
Lousiana State University, USA
Alex Kitt
EWI, USA
Ajay Krishnan
EWI, USA
Aaron Lalonde
US Army, USA
Robert Lancaster
Swansea University, UK
Jia (Peter) Liu
Auburn University, USA
Sean Looi
Creatz3D, Singapore
Yan Lu
NIST, USA
Masoud Mahjouri Samani
Auburn University, USA
Guha Manogharan
PSU, USA
Stephan Mansour
Wohlers Associates, Canada
Filo Martina
WAAM3D, UK
Travis Mayberry
Raytheon, USA
Craig McClung
SWRI, USA
Michael Melia
Sandia National Laboratory, USA
Badri Narayanan
Lincoln Electric, USA
Abdalla Nassar
John Deere, USA
Gary Ng
ARTC, Singapore
Thomas Niendorf
University of Kassel, Germany
Adam Norton
University of Massachusetts Lowell, USA
Jaim Nulman
Nano-Dimensions, USA
Faith Oehlerking
beehive3D, USA
Katherine Olson
US Army, USA
Nick Parry
Authentise, USA
Mikkel Pedersen
Oerlikon, Germany
Jonathan Pegues
Sandia National Labs, USA
Eujin Pei
Brunel University London, UK
Nam Phan
Naval Air Systems Command, USA
Behrang Poorganji
University of Toledo, USA
Simon Pun
Divergent, USA
Brandon Ribic
NCDMM, USA
Michael Roach
University of Mississippi Medical Center, USA
David Rosen
Georgia Tech, USA
Sam Ruben
Mighty Buildings, USA
Rick Russell
NASA, USA
Nicolas Sabo
GE, USA
Jasmin Kathrin Saewe
Fraunhofer ILT, Germany
Matt Sanders
Stress Engineering, USA
Hector Sandoval
Lockheed Martin, USA
Alireza Sarraf
Divergent3D, USA
Jonathan Seppala
NIST, USA
Shuai Shao
Auburn University, USA
Jutima Simsirriwong
University of North Florida, USA
Chantal Sudbrack
NETL, USA
Sing Swee Leong
National University of Singapore (NUS), Singapore
Jyi Sheuan (Jason) Ten
A*STAR – SIMTech, Singapre
Tony Thornton
Micromeritics, USA
Valeria Tirelli
AIDRO, Italy
Albert To
Univ. of Pittsburgh, USA
Phuong (Jonathan) Tran
RMIT, Australia
Tuan Tran
Nanyang Technological University, Singapore
Andrew Triantaphyllou
The MTC, UK
Lakshmi Vendra
Baker Hughes, USA
Frank Venskytis
Consultant, USA
Benoit Verquin
CETIM, France
Kiley Versluys
Relativity Space, USA
John Vickers
NASA, USA
Timothy Wangler
ETH Zürich, Switzerland
Doug Wells
NASA MSFC, USA
Brian West
NASA, USA
Mark Yampolskiy
Auburn University, USA
Max Yang
GE Additive, USA
Hotel and Travel
Conference Hotel
JW Marriott Orlando Bonnet Creek Resort & Spa
14900 Chelonia Parkway
Orlando, FL 32821, US
Hotel Reservations: Staying at our contracted hotel is important to ASTM, to the hotel where we are holding this meeting, and ultimately to you as an attendee. When you reserve a guest room at another hotel and an ASTM contracted room goes unsold, ASTM is liable and must pay a non-performance penalty fee to the hotel. Please support ASTM by reserving your sleeping room at our official hotel.
Reservations may be made via the hotel's online reservation system
Hotel Reservations
The Group Rate is guaranteed for reservations made on or before the Cutoff Date of Monday, October 10. Any reservations made after the Cutoff Date shall be at the current available rate.
Rates are subject to applicable state and local taxes. Resort guestrooms are subject to a daily resort fee of $35.00 per room, per night. This fee includes enhanced in-room wireless internet, JW Spa instructor led fitness class, 2 welcome drinks, and shuttle service to Disney Parks and to Disney Springs.
For more information about the Resort's location, features, and Covid-19 updates including Health/Safety Protocols please click here.
Airports
The closest airport is Orlando International Airport, located 21.4 miles from the hotel.
Note: This hotel does not provide airport shuttle service. Alternate airport transportation can be found here.
Travel Visas
If you are traveling to ICAM 2022 from a country that requires a visa to enter the United States, or if you are a citizen of a country from which a U.S. travel visa is typically required, contact us to request a visa letter.
Travel Visa Request
Please remember that the process of obtaining a visa takes a minimum of three months. You are strongly encouraged to begin the application process as early as possible. The U.S. State Department website includes visa information concerning temporary visitors to the United States that may be helpful to you.
Program
ICAM 2022 Program overview and detailed program can be found below (updated August 16, 2022)
*Scientific Organizing Committee Reception is by invitation only
Short Certificate Courses
Four short certificate courses will be offered on Sunday, October 30th in Orlando, FL. These courses are instructed by members of the AM community and experts in the field covering the following topics.
8 AM – 12 PM EST | Intro to Quality Assurance for Additive Manufacturing, in partnership with America Makes
Dr. Martin White, ASTM International
Ben Dutton, The MTC
View this course
8 AM – 12 PM EST | Probabilistic Fatigue Modeling in AM
Dr. Stefano Beretta, Politecnico di Milano
Dr. James Sobotka, Southwest Research Institute
View this course
1 PM – 5 PM EST | AM Process Development to Achieve Optimized Material Properties
Dr. Youping Gao, ADDMAN/Castheon Inc.
Shane Collins, Wohlers Associates, powered by ASTM International
View this course
1 PM – 5 PM EST | Polymer Additive Manufacturing Concepts for Industrialization
Paul Bates, ASTM International
Bonnie Meyer, ASTM International
View this course
Attendees will earn a digital certificate upon completion of the course(s).
Note, these courses are not included in ICAM 2022 registration and will incur an additional fee.
Sponsorship
Why You Should Sponsor
Based on the overwhelming success of previous versions of these events, ICAM 2022 offers an unprecedented opportunity for sponsors to reach a broad range of AM professionals, leaders, and influencers from industry, academia, and regulatory bodies. Pre-conference promotions, exhibit space, networking events, and other opportunities will allow sponsors to connect with attendees throughout the course of the event.
Sponsors will have the opportunity to:
Build relationships with AM decision-makers from industry, academia, and regulatory bodies
Promote their products/services to our wide network of partners and organizations
Expand brand outreach through pre-conference advertising and promotional materials
For more information on sponsorship package rates and opportunities to get your company noticed at future AM CoE events, please contact amcoe@astm.org.
View Sponsorship Opportunities
Diamond Sponsors




Gold Sponsors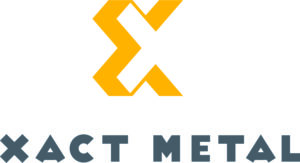 Previous Sponsoring and Supporting Organizations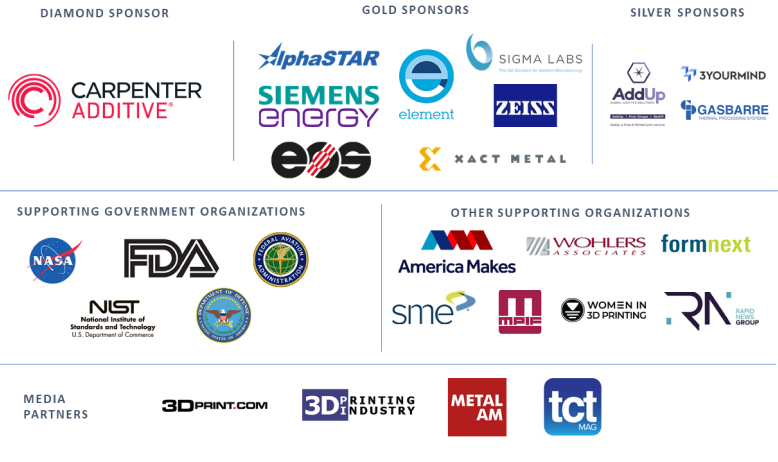 Students
Student Presentation Competition
Over 100 graduate and undergraduate students have submitted abstracts to participate in the student presentation competition to be held in conjunction with ASTM International Conference on Additive Manufacturing (ASTM ICAM) on Monday, October 31.
Each participating student will receive:
Discounted registration fee to attend conference sessions and social events to network with AM experts from academia, industry, and government
One year free of membership in ASTM International
Student Presentation Competition winners will be announced during the ICAM 2022 Awards Ceremony and Networking Reception on Wednesday, November 2, in Orlando, FL.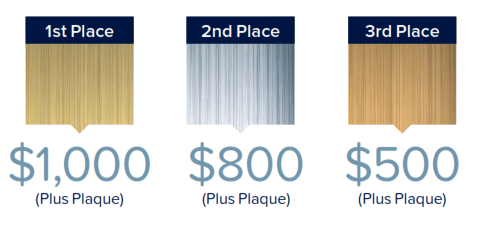 Previous Student Presentation Competition Awardees:
2021
1st Place

Stephanie Prochaska

Colorado School of Mines, USA

2nd Place

Graham Matheson

technical University of Munich, Germany

3rd Place

Noémie Martin

Institut Clément Ader, France
2020
1st Place

Pooriyah Dastranjy Nezhadfar, Auburn University

"Improved High Cycle Fatigue Performance of Additively Manufactured Stainless Steel via In-process Refined Micro/defect Structure"

2nd Place

Tatiana Mishurova, Federal Institute for Materials Research and Testing

"Influence of Residual Stress and Microstructure on Mechanical Performance of LPBF TI-6AL-4V"

3rd Place

Lukas Haferkamp, Inspire AG/ETH Zurich

"The Influence of the Particle Size Distribution of AlSi12 on Part Density in Laser Powder Bed Fusion"

Terrance Moran, Cornell University

"Scan-by-Scan Part-Scale Thermal Modelling for Defect Prediction in Metal Additive Manufacturing"
2019
1st Place

Jonathan Pegues, Auburn University

"Additive Manufacturing of Fatigue Resistant Materials: Avoiding the Early Life Crack Initiation"

1st Place

Yu-Chung Chang, Washington State Univerasity

"A 3D Printable Coffee/PLA Polymer Composite with Enhanced Impact Toughness"

2nd Place

Cambre Kelly, Duke University

"Scaffolds with Sheet-based Architectures Produced by SLM for Orthopedic Applications"

3rd Place

Zoe' Jardon, Vrije Universiteit Brussel

"Physical Understanding of Propagating Waves through eSHM-system for Crack Localization"

3rd Place

Dalia Mahmoud, McCaster University

"Effect of Microstructure and Internal Defects on the Mechanical Properties of Gyroid Lattice Structures for Biomedical Implants"
Awards
The ICAM 2022 Awards Ceremony will be held live in Orlando, FL, and include the presentation of three types of awards. Award nominations are now open. Please visit the ICAM 2021 Awards to view the list of past winners.
Student Competition Presentation Award
Graduate and undergraduate students will submit abstracts and present them in the Student Presentation Competition symposium for the 3 awards: 1st Place, 2nd Place, and 3rd Place. The student presentations will be reviewed by a select panel of judges from the ICAM 2022 Scientific Organizing Committee, and the top 3 presenting students will receive awards and monetary prizes.
Young Professional Award
The Young Professional Award recognizes emerging young professionals who have made significant research contributions to the field of additive manufacturing, specifically in support of standards development.
Awards of Excellence in
Research, Education, and Standardization
The Awards of Excellence were established to recognize members who have made continuous and outstanding contributions to the field of additive manufacturing in the areas of Research, Education, or Standardization.
Publication Options
ASTM International and affiliated organizations will be publishing several topical collections dedicated to ICAM 2022. Only submissions from ICAM 2022 will be considered for the following publications. More information will be available soon.
Please note: Submissions will go through the standard peer review process, and there is no guarantee of acceptance.
Register
Register now, prices will increase on September 1!
Registration (prices increase on September 1, 2022)
| | |
| --- | --- |
| ASTM Member | $825 |
| ASTM Non-Members | $875 |
| Invited Speaker/Scientific Organizing Committee | $607 |
| Speaker | $675 |
| Student | $475 |
Important Dates
Early Bird Registration: ends June 30
Regular Registration: July 1 – August 31
Late Registration: September 1 – October 30
On-site Registration: October 31 – November 4
Purchase Order
Please submit the following information to request a purchase order to attend ICAM 2022
PO Request Form
Cancellation Policy
Full refund 60 days prior to start date – September 1
50% refund 30 days prior to start date – October 1
No refund if requested after October 1